Barbara Butler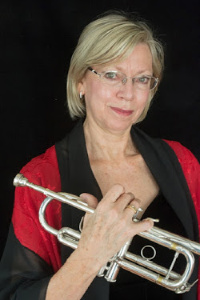 Music of the Baroque principal trumpet Barbara Butler is internationally known as both soloist and teacher. She is currently Professor of Trumpet and Director of the Artist Diploma program at the Shepherd School of Music at Rice University, and was formerly Professor of Trumpet at both Northwestern University and the Eastman School of Music. She is also co-principal trumpet and soloist with the Grand Teton Music Festival Orchestra and Chicago Chamber Musicians.
Barbara Butler has previously served as co-principal trumpet of the Vancouver Symphony Orchestra, principal trumpet of the Grant Park Orchestra, and acting associate/assistant principal trumpet with the Houston and St. Louis Symphony Orchestras. She has performed, recorded, and toured with orchestras and at music festivals throughout Europe, Asia, the United States, and Canada.
Barbara Butler performs and teaches every summer at the Music Academy of the West in Santa Barbara, and most recently was featured soloist at the 2019 International Trumpet Guild and USA judge of the 2019 Philip Jones International Brass Ensemble competition in Manchester, UK.
Barbara Butler's recordings include With Clarion Voice (with Music of the Baroque, on D'Note), Music for Two Trumpets and Organ (Gasparo), and Carmen Fantasia for Two Trumpets and Orchestra (Warner Classics).