MOB in the Community
Through magnificent concerts, transformative arts education, and inspiring community events, Music of the Baroque strives to make music from the 17th and 18th centuries accessible to all, regardless of race, gender and sexual identity, age, class, or mobile/cognitive ability. Our artistic mission is rooted in the past, but our shared values come from the reality of our present. 
The Chevalier (Feb 18-20, 2022)
In partnership with the Kehrein Center for the Arts, Chicago Symphony Orchestra Association, North Shore Center for the Arts, and Concert Theatre Works, we presented the Midwest premiere of The Chevalier, a concert-theater work about the life and music of 18th-century Black composer Joseph Bologne, also known as The Chevalier de Saint-Georges.
Images from the Feb 18 performance at the Kehrein Center in Chicago's Austin neighborhood
Merit School of Music Collaboration (Nov 30, 2021)
Principal Guest Conductor Nicholas Kraemer led students from the Merit School of Music and our principal string players in Handel's Concerto Grosso in G Minor, op. 6, no. 6. The project also included master classes in which our string principals worked closely with the young musicians from Merit.
Rehearsals and interviews
The full performance
Strong Voices (Sep 10, 2021)
The Strong Voices Chorus, comprised of students from our Strong Voices arts education program in six Chicago public high schools, joined us at Millennium Park in front of an audience of 6,500 people for Handel's "Hallelujah" Chorus from the oratorio Messiah.
Project Inclusion (Feb 27 & 28, 2022)
Music of the Baroque was thrilled to work with four Project Inclusion fellows as part of "McGill Plays Mozart." The inspiration of Chicago Sinfonietta founder Paul Freeman, Project Inclusion is a unique development opportunity in the performing arts aimed at increasing diversity and inclusion and ultimately guiding young professionals toward successful careers in music. Today, Project Inclusion offers multifaceted professional development fellowships to orchestral and ensemble musicians, conductors, arts administrators, and composers. The Grant Park Music Festival forged a partnership with Sinfonietta in 2013 to launch its own Project Inclusion program. Music of the Baroque will continue its participation in Project Inclusion in February 2023.
City of Chicago Proclamation (Feb 28, 2022)
In honor of our 50th anniversary, Lori E. Lightfoot designated January 23, 2022, "Music of the Baroque Day" in Chicago. First Lady Amy Eschleman and Arts Commissioner Erin Harkey presented the proclamation on February 28, 2022.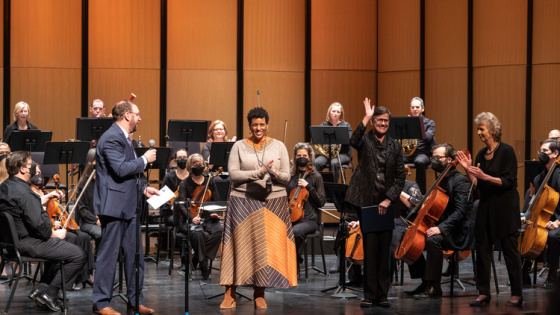 >
Strong Voices Recital with Reginald Mobley
In the summer of 2021, countertenor Reginald Mobley performed a virtual recital for singers in our "Strong Voices" choral education program in six Chicago public high schools. Reggie and accompanist Stephen Alltop romped through a wide range of repertoire, from spirituals, to works by Henry Purcell and George Frideric Handel, to music by Baroque and Classical composers of color Ignatius Sancho and Joseph Bologne. In between pieces, he shared with the students the story of how he became a professional musician. Enjoy this stellar performance and inspirational story!
More information about the "Strong Voices" program