Oto Carrillo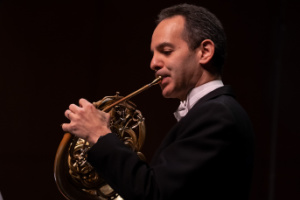 Oto Carrillo is Music of the Baroque's principal horn and was appointed to the Chicago Symphony Orchestra horn section in 2000. A native of Guatemala, he grew up in Chicago and received a bachelor's degree in music performance from DePaul University and a master's degree in both music performance and musicology from Northwestern University. He also has performed with the Boston Symphony Orchestra and the Metropolitana Orchestra of Lisbon, Portugal, as well as Chicago-based ensembles such as Chicago Sinfonietta, Chicago Philharmonic, and the Lyric Opera Orchestra. In addition, he has played in various summer festivals with such orchestras as the National Repertory Orchestra, the National Orchestral Institute, Tanglewood Music Center Orchestra, Grant Park Orchestra, the Mostly Mozart Festival in Woodstock, and the Grand Teton Music Festival Orchestra.
Oto Carrillo has collaborated with numerous chamber groups, including Civitas, Dempster Street Pro Musica, The Chicago Chamber Musicians, musicians from the Music Now series, and as a member of the Millar Brass Ensemble. He has been on faculty at DePaul University since 2003 and in 2013 was awarded the Distinguished Alumnus Award.
Outside of playing horn, he enjoys savoring and occasionally brewing excellent craft beer, woodworking, playing sports of all types, and the company of his wife Sarah, a freelance trumpet player, and their two brass-playing children, Lucas and Isabelle.