William Buchman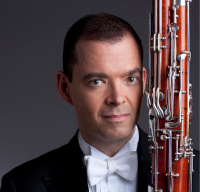 William Buchman is Music of the Baroque's principal bassoon and has been assistant principal bassoon of the Chicago Symphony Orchestra since 1996. He has appeared twice as soloist with Music of the Baroque in music by Mozart and Vivaldi, as well as soloist with the Chicago Symphony Orchestra and Mostly Mozart Festival at Lincoln Center. He has performed and toured with The Chicago Chamber Musicians, Chicago Pro Musica, the Chicago Symphony Winds, and appeared at the Eastern Shore Chamber Music Festival in Maryland, the Grand Teton Music Festival in Wyoming, and the St. Bart's Music Festival in the Caribbean. He was the winner of the 1990 Fernand Gillet Competition of the International Double Reed Society and previously played with the Dallas Symphony.
A native of Canton, Ohio, William Buchman studied bassoon performance at the Yale University School of Music with Arthur Weisberg and at the University of Southern California School of Music with Norman Herzberg. Currently on the faculty of the DePaul School of Music, he also coaches the bassoon section of the Civic Orchestra of Chicago and has presented masterclasses and recitals across the US and around the world.
William Buchman appears as soloist in Windy City on November 19 & 20.