Patrick Dupré Quigley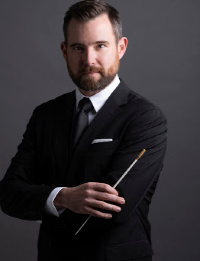 Guest conductor Patrick Dupré Quigley is the founder and artistic director of Seraphic Fire. He has been a guest conductor with the San Francisco Symphony, Cleveland Orchestra, Utah Symphony, Indianapolis Symphony Orchestra, Charlotte Symphony, Grand Rapids Symphony, New World Symphony, Philharmonia Baroque Orchestra, New Jersey Symphony, San Antonio Symphony, Louisiana Philharmonic, Mobile Symphony Orchestra, and the Naples Philharmonic. Patrick Dupré Quigley last appeared with Music of the Baroque in December 2019.
During Patrick Dupré Quigley's tenure as artistic director, Seraphic Fire has grown to present forty-five concerts annually over eight subscription programs. The organization's multiple educational outreach programs (Seraphic Fire Youth Initiative; StudentAccess; Seraphic Fire-UCLA Emerging Artist Program; the Professional Choral Institute at the Aspen Music Festival) reach thousands of students, from elementary to graduate school. The Seraphic Fire Media catalog contains sixteen titles; two are recipients of Grammy nominations.
Patrick Dupré Quigley holds a master's degree from the Yale School of Music, an undergraduate degree from the University of Notre Dame, and has pursued further professional studies at the Lilly Family School of Philanthropy's Fundraising School.