Patrick Dupre Quigley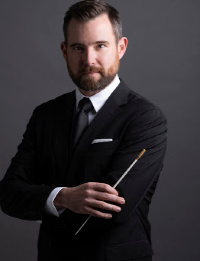 Patrick Dupre Quigley is a GRAMMY-nominated American conductor, founder and artistic director of the intrepid indie-classical ensemble Seraphic Fire, and guest conductor with the nation's top orchestral ensembles. He has made significant contributions to American music through founding lasting musical ensembles, establishing vibrant musical education programs, commissioning contemporary American composers, and producing revival performances of the sensational music of the 18th and 20th centuries. Patrick Dupre Quigley has made his conducting debuts with The Cleveland Orchestra in Severance Hall and the San Francisco Symphony in Davies Symphony Hall, and has continued with frequent collaborations with North America's professional orchestras. He last appeared with Music of the Baroque in October 2021.
Equal parts scholar and P.T. Barnum, Patrick Dupre Quigley is known for his engaging performances of historically-informed programming that draw in new audiences and delight regular concertgoers. A ceaseless advocate for a more historically-inclusive concert hall experience, his programs regularly span more than 1000 years of musical history. Through recordings, performances, and new editions, Patrick Dupre Quigley has championed the culturally relevant voices of Spanish Renaissance composer Tomas Luis de Victoria, the 11th-century polymath and saint Hildegard of Bingen, and 18th-century Cuban composer Esteban Salas y Castro.
Patrick Dupre Quigley deeply respects music traditions outside the Western European art music canon and has developed concerts and collaborations highlighting the music of the Babylonian Jews, New Orleans's Black Gospel tradition, Latin Pop, and the Baroque music of North and South America.
Patrick Dupre Quigley has also commissioned and/or premiered works by composers Christopher Theofanidis, Nico Muhly, Alvaro Bermudez, Juliet Palmer, Ileana Perez Velasquez, Susan Labarr, Sidney Guillaume, Shawn Crouch, and James Kallembach, among others.
During Patrick Dupre Quigley's tenure as artistic director, Seraphic Fire has grown to present forty-five concerts annually over eight subscription programs. The organization's multiple educational outreach programs (Seraphic Fire Youth Initiative; StudentAccess; Seraphic Fire-UCLA Emerging Artist Program; the Professional Choral Institute at the Aspen Music Festival) reach thousands of students, from elementary to graduate school. The Seraphic Fire Media catalog contains sixteen titles; two are recipients of Grammy nominations.
Patrick Dupre Quigley holds a master's degree from the Yale School of Music, an undergraduate degree from the University of Notre Dame, and has pursued further professional studies at the Lilly Family School of Philanthropy's Fundraising School.