Allyson McHardy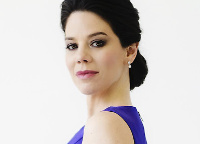 Mezzo-soprano Allyson McHardy's recent and upcoming engagements include Bach's St. Matthew Passion with the National Arts Centre Orchestra, Hippolyta in Britten's A Midsummer Night's Dream with Opera Philadelphia, Mendelssohn's Elijah with the Calgary Philharmonic Orchestra, Bach's St. Matthew Passion with the Grand Philharmonic Choir, and Mozart's Mass in C Minor with Symphony Nova Scotia. "The Chase--Haydn, Handel, Rameau" on October 20 and 22 marks her debut with Music of the Baroque.
Allyson McHardy has performed with Festival d'Aix-en-Provence, the Grant Park Music Festival, Orchestra symphonique de Montréal, Seattle Symphony, Paris Opera, the Chicago, Toronto, and Boston symphony orchestras, Glyndebourne Festival, Warsaw Philharmonic Orchestra, and Théâtre du Capitole.
Recent opera highlights include appearances in Donizetti's Lucrezia Borgia with Theater St. Gallen; Roberto Devereux with the Canadian Opera Company; Amadis de Gaule at the Opéra Comique; Handel's Alcina with Opera Atelier; and Madama Butterfly with both Opéra de Montréal and Vancouver Opera. She also sang the role of Sister Helen in Opéra de Montréal's Dead Man Walking and Dejanira in Handel's Hercules with Tafelmusik Baroque Orchestra.
Allyson McHardy's recordings include includes the JUNO-nominated Orlando with the Pacific Baroque Orchestra and Alexander Weimann (ATMA); the JUNO- and ADISQ-nominated recording of Caldara's La conversione di Coldoveo, Re di Francia (ATMA); Bellini's Norma with the Warsaw Philharmonic (Philharmonia Narodowa); Serinette and A Midwinter Night's Dream (Centrediscs); and Ukrainian music by composer Mykola Lysenko in a six-disc collection on the Musica Leopolis label.