Angela Hewitt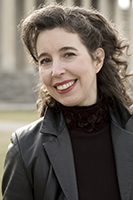 Pianist Angela Hewitt has appeared in recital and as soloist with major orchestras throughout Europe, the Americas, Australia, and Asia. She has conducted the concertos of Bach, Mozart, and Beethoven from the piano, leading the Toronto Symphony Orchestra, the Hong Kong Philharmonic Orchestra, the Copenhagen Philharmonic, the Lucerne Festival Strings, the Kammerorchester Basel, the Vancouver Symphony Orchestra, the Stuttgart Chamber Orchestra, the Britten Sinfonia, the Swedish Chamber Orchestra, the Zurich Chamber Orchestra, the Salzburg Camerata, the orchestra of RAI Torino, and in 2019 will make her debut playing and conducting Bach with the Vienna Tonkünstler Orchestra in Vienna's Musikverein. One of her current projects, The Bach Odyssey, includes all the keyboard works of J.S. Bach in a series of twelve recitals between 2016 and 2020 in London, New York, Ottawa, Tokyo, and Florence. Hewitt Plays Mozart on January 26 and 27 marks her debut with Music of the Baroque.
Angela Hewitt's extensive discography also includes solo recordings of Scarlatti, Handel, Couperin, Rameau, Haydn, Mozart, Beethoven, Chopin, Schumann, Liszt, Fauré, Debussy, Chabrier, Ravel, Granados, and Messiaen. She has won four Juno Awards, including one for her album of Mozart concertos with Canada's National Arts Centre Orchestra. Other recordings include the complete Bach concertos with the Australian Chamber Orchestra, the works for piano and orchestra of Schumann with the Deutsches Symphonie-Orchester Berlin, and Messiaen's mammoth Turangalila Symphony with the Finnish Radio Symphony Orchestra. In 2015, she was inducted into Gramophone Magazine's "Hall of Fame." Recent releases include her second recording of Bach's Goldberg Variations, made 15 years after her first.
In 2005, Angela Hewitt launched the annual Trasimeno Music Festival in the heart of Umbria, Italy of which she is Artistic Director. The festival consists of seven concerts in seven days and features her as recitalist, chamber musician, song accompanist, and conductor, working with both established and young artists of her choosing. She involves writers and actors in the festival programming and has gone on to perform with many of them elsewhere: with authors Ian McEwan and Julian Barnes in London, Vienna, and New York; and with actor Roger Allam in Venice and at Shakespeare's Globe in London. Her recordings and live performances have featured in such films as The Tree of Life (2011), The Life Aquatic (2004), The Impassioned Eye (2003)—a documentary on Henri Cartier-Bresson, and, to be released in 2018, The Children Act (based on the novel by Ian McEwan and starring Emma Thompson).