Anne Bach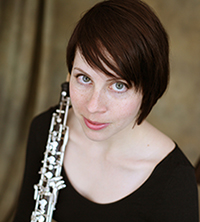 Music of the Baroque principal oboe since 2017, Anne Bach has appeared as soloist on three occasions, including Bach's Concerto for Oboe and Violin in C Minor in 2017, Mozart's Sinfonia Concertante in 2018, and Albinoni's Double Oboe Concerto in 2019. She is assistant principal oboe with the Grant Park Orchestra, where she also plays English horn. She performs regularly with Lyric Opera of Chicago and Joffrey Ballet, as well as with the Chicago Symphony, Chicago Philharmonic, and Milwaukee Symphony orchestras.
Anne Bach studied with Richard Killmer at the Eastman School of Music, where she was awarded the prestigious Performer's Certificate. She has served on faculty at Vandercook College of Music and Sherwood Conservatory at Columbia College of Chicago. She lives on the west side of the city above her husband's woodworking business, and has two daughters, one dog, and one cat.
Anne Bach performs in Vivaldi & Friends on February 28 and March 1.