Charles Geyer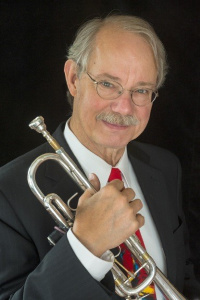 Music of the Baroque co-principal trumpet Charles Geyer is in demand nationwide as soloist and section leader. He is currently principal trumpet with the Chicago Philharmonic, co-principal trumpet with Ars Viva and the Grand Teton Music Festival Orchestra, and a member of Chicago Chamber Musicians. He previously served as principal trumpet with Lyric Opera of Chicago, Grant Park Orchestra, and the Houston Symphony Orchestra, and as a member of the Chicago Symphony Orchestra.
Charles Geyer has recorded with Eastman Brass, Music of the Baroque, Chicago Chamber Musicians, the Chicago and Houston Symphony Orchestras, and Contemporary Chamber Players. He and his wife, Barbara Butler, perform often together, and were heard recently in recital in Venice and as featured soloists at the International Trumpet Guild. Previously Professor of Trumpet at the Eastman School of Music, he is currently Professor of Trumpet at Northwestern University and the Shepherd School of Music at Rice University.
Charles Geyer performs in Baroque Fireworks on May 9 & 10.