Gina DiBello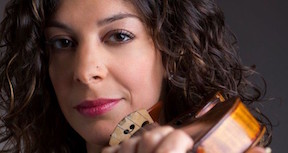 Recently appointed concertmaster of Music of the Baroque, Gina DiBello joined the first violin section of the Chicago Symphony Orchestra in April 2013. Previously, she was principal second violin of the Minnesota Orchestra for four seasons, a member of the first violin section of the Detroit Symphony Orchestra, and has also performed with the Boston Symphony and Philadelphia orchestras.
An accomplished soloist and chamber musician, Gina DiBello performed Mozart's Violin Concertos Nos. 3 and 5 with the Minnesota Orchestra under the batons of Stainslaw Skrowaczewski and Andrew Litton. She is a founding member of the collective New Music Detroit, and has performed with the Sun Valley Summer Symphony and the All Star Orchestra in New York—an ensemble comprised of principal players from orchestras across the U.S. convened to film a series of educational programs for public television.
A Chicago native, Gina DiBello developed an intense passion for music at a very young age—her father Joseph is a veteran bass player with the Chicago Symphony Orchestra, and her mother Bonita is a violinist with the Lyric Opera Orchestra. She began her violin studies at age four with Betty Haag and made her solo debut at age fifteen, performing the Glazunov Concerto with the Kishwaukee Symphony. She studied at the Cleveland Institute of Music and The Juilliard School, and her principal teachers include Desiree Ruhstrat, David Cerone, and Linda Cerone.
Recent recordings include Asako Hirabayashi's The Harpsichord in the New Millenium (Albany Records) and Kalevi Aho's Clarinet Quintet featuring Osmo Vänskä (BIS Records).