Joélle Harvey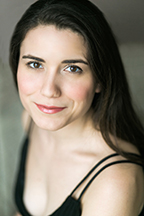 Soprano Joélle Harvey's recent and upcoming engagements include Samuel Barber's Knoxville: Summer of 1915 with the Knoxville Symphony Orchestra, Almirena in Rinaldo with The English Concert, and her Pittsburgh Opera Debut as Susanna in Le nozze di Figaro. Other appearances include a return to the New York Philharmonic for Handel's Messiah, Beethoven's 9th Symphony with the Handel & Haydn Society, and an appearance with the Laguna Music Festival for a concert of music by Brahms and both Clara and Robert Schumann. In the summer of 2018, she returns to the Glyndebourne Festival Opera for her role debut as Cleopatra in Sir David McVicar's production of Handel's Giulio Cesare. Hot Coffee—Bach & Haydn on March 31 and April 1 marks her debut with Music of the Baroque.
Joélle Harvey has performed extensively throughout the world with such companies as the Glyndebourne Festival Opera, Royal Opera Covent Garden, Utah Opera, Killkenny Festival, Dallas Opera, Arizona Opera, Festival d'Aix-en-Provence, New York City Opera, Washington Concert Opera, Opéra de Monte-Carlo, Eugene Opera, Atlanta Opera, Glimmerglass Opera, and Portland Opera.
Recent concert engagements include the London Symphony Orchestra, New York Philharmonic, Milwaukee Symphony, Los Angeles Philharmonic, Mostly Mozart Festival, Utah Symphony, Handel and Haydn Society, National Symphony Orchestra, San Francisco Symphony, Los Angeles Chamber Orchestra, North Carolina Symphony, Indianapolis Symphony Orchestra, Virginia Symphony Orchestra, St. Paul Chamber Orchestra, Les Violons du Roy, Cleveland Orchestra, Tafelmusik, Dallas Symphony Orchestra, Pygmalion Ensemble, Kansas City Symphony, The English Concert, Orchestra of St. Luke's, and BBC Proms.