Jonas Hacker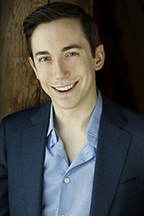 Tenor Jonas Hacker's upcoming engagements include debuts with Central City Opera as the Novice in Britten's Billy Budd, and with Arizona Opera, where he will revisit the role of Timothy Laughlin in Gregory Spears' Fellow Travelers. Other performances a return to Washington Concert Opera as Laertes in Ambroise Thomas' Hamlet, his debut with Orchestre Métropolitain as the tenor soloist in Mozart's Mass in C Minor, and his debut with Theater St. Gallen singing the Boy/Young King in George Benjamin's in Lessons in Love and Violence. He last appeared with Music of the Baroque in September 2018.
In 2016 and 2017, he was selected as a Filene Young Artist with Wolf Trap Opera, where he has been heard in multiple productions including as Sospiro in the US premiere of Florian Gassmann's comic opera L'opera seria, Bastianello and Lambent in John Musto's Bastianello, and Roderick Usher in Philip Glass' The Fall of the House of Usher. Other recent engagements include Count Almaviva with Annapolis Opera in The Barber of Seville, the tenor soloist in Handel's Messiah with the Columbus Symphony and Philadelphia Orchestra, his debut with the Cleveland Orchestra singing Tanzmeister in Ariadne auf Naxos, and his debut with Dallas Opera as Edmondo in Manon Lescaut. Other performances include his Lyric Opera debut as Timothy Laughlin in Gregory Spears' Fellow Travelers, his Opera San Jose debut in Alma Deutscher's Cinderella, a return to Annapolis Opera as Theodore "Laurie" Lawrence in Little Women, and the Mozart Residency at Festival d'Aix-en-Provence.
Active on the concert stage, Jonas Hacker made his debut with the Columbus Symphony in 2016 singing Obadiah in Mendelssohn's Elijah and returned in the summer of 2017 as the tenor soloist in Beethoven's Symphony No. 9. In 2017, he was the tenor soloist in a quartet rendition of Bach's Cantata 150 with the Philadelphia Orchestra. He was the tenor soloist in Part 1 of Handel's Messiah for the Philadelphia Orchestra's SingIN event in Verizon Hall and performed the complete Messiah with the Great Lakes Chamber Orchestra in 2012.
Jonas Hacker performs in Mass in B Minor on September 14 and 15.