Jonas Hacker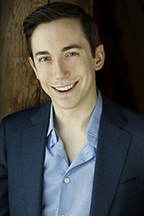 Tenor Jonas Hacker's recent and upcoming performances include his Lyric Opera debut as Timothy Laughlin in Gregory Spears' Fellow Traveler, his Opera San Jose debut in Alma Deutscher's Cinderella, a return to Annapolis Opera as Theodore "Laurie" Lawrence in Little Women, Washington Concert Opera, and the Mozart Residency at Festival d'Aix-en-Provence. The Mozart Requiem on September 15 and 16 marks his debut with Music of the Baroque.
In 2016 and 2017, he was selected as a Filene Young Artist with Wolf Trap Opera, where he has been heard in multiple productions including as Sospiro in the U.S. premiere of Florian Gassmann's comic opera L'opera seria, Bastianello and Lambent in John Musto's Bastianello, and Roderick Usher in Philip Glass' The Fall of the House of Usher. Other recent engagements include Beethoven's Leonore with Washington Concert Opera, the title role in Vivaldi's Catone in Utica with the Glimmerglass Festival Young Artist Program, and the role of George Gibbs in Ned Rorem's Our Town with Fresno Grand Opera and Townsend Opera.
Active on the concert stage, Jonas Hacker made his debut with the Columbus Symphony in 2016 singing Obadiah in Mendelssohn's Elijah and returned in the summer of 2017 as the tenor soloist in Beethoven's Symphony No. 9. In 2017, he was the tenor soloist in a quartet rendition of Bach's Cantata 150 with the Philadelphia Orchestra. He sang the tenor soloist in Part 1 of Handel's Messiah for the Philadelphia Orchestra's SingIN event in Verizon Hall and performed the complete Messiah with the Great Lakes Chamber Orchestra in 2012.