Reginald Mobley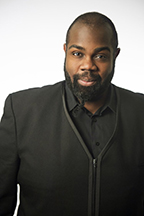 Noted for his "shimmering voice" (BachTrack), American countertenor Reginald Mobley is highly sought after for the Baroque, classical, and modern repertoire. He last appeared as soloist with Music of the Baroque in May 2019.
Reginald leads a very prolific career on both sides of the Atlantic.
In the United States, where he resides, he became the first ever programming consultant for the Handel & Haydn Society following several years of leading H&H in his community engaging Every Voice concerts. He also holds the position of Visiting Artist for Diversity Outreach with the Baroque ensemble Apollo's Fire, and is a regular guest with Cantata Collective, Musica Angelica, Agave Baroque, Charlotte Bach Akademie, Seraphic Fire, Quodlibet, Pacific Music Works, Bach Collegium San Diego, San Francisco Early Music Society and Philharmonia Baroque Orchestra. Recent engagements have included concerts and recordings with the Chicago Symphony Orchestra, Opera Lafayette, Blue Heron, Chatham Baroque, Washington Bach Consort, Atlanta Baroque Orchestra and Early Music Seattle. Future highlights include Carmina Burana with the Chicago Symphony Orchestra, Messiah with the New York Philharmonic and Pittsburgh Symphony Orchestras, a debut at Carnegie Hall with Orchestra St Luke's and at the Walt Disney Hall in Los Angeles.
In Europe, Reginald has been invited to perform with the OH! (Orkiestra Historycsna) in Poland, Vienna Academy in Austria (Musikverein), Musée d'Orsay in Paris, Royal Scottish National Orchestra, Academy of Ancient Music, City of Birmingham Symphony Orchestra, Balthasar Neumann Chor & Ensemble, Bach Society in Stuttgart, Holland Baroque Orchestra and in the autumn of 2021, he performed the role of Ottone in L'incoronazione di Poppea in Geneva, MUPA and Teatro di Vicenza in a European tour with The Budapest Festival Orchestra. He has also extensively toured with the Monteverdi Choir and Orchestra under the baton of John-Eliot Gardiner, and more recently performed a series of English music programmes in Germany with the Freiburger Barockorchester under the leadership of Kristian Bezuidenhout.
His recordings have been received with great critical acclaim, most recently American Originals with Agave Baroque ensemble, recorded with Acis Productions, which has been nominated for a GRAMMY Award, following A Lad's Love with Brian Giebler on BRIDGE 9542 label. Reginald features on several albums with the Monteverdi Choir and Sir John Eliot Gardiner, including a recording of Bach's St. Matthew Passion and Magnificat, where Reginald "encapsulates whimsical pathos" (Classical Music Magazine) His solo recording debut with ALPHA Classics will be released in June 2023.