Sherezade Panthaki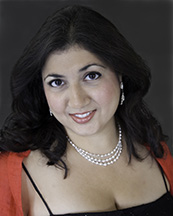 Soprano Sherezade Panthaki's recent and upcoming engagements include performances with the Los Angeles Philharmonic at the Hollywood Bowl, Philharmonia Baroque Orchestra, a U.S. tour with Bach Collegium Japan, the St. Louis Symphony Orchestra, the Spoleto Festival Orchestra, the American Classical Orchestra, New York Baroque Incorporated, Mark Morris Dance Group, Opera Lafayette, Pasadena and Milwaukee symphonies, Orlando Philharmonic Orchestra, and the Portland Bach Festival. She last appeared with Music of the Baroque in April 2018.
Highlights of recent seasons include Handel's Messiah with Bach Collegium Japan, the National Symphony Orchestra, Boston Baroque, National Arts Orchestra at the Kennedy Center, Calgary Philharmonic, and the Nashville, Kansas City, Colorado, and San Antonio symphonies; Handel's Saul with Tafelmusik Baroque Orchestra; Bach's Mass in B Minor and Magnificat at the Oregon Bach Festival; a fully staged production of Rameau's Les Indes galantes at the Metropolitan Museum of Art; Mozart's Grand Mass in C Minor with the Spoleto Festival Orchestra; Brahms' Requiem with the Calgary Philharmonic Orchestra; Bach cantatas and oratorios and works by Handel and Purcell with Philharmonia Baroque Orchestra; the role of Belinda in Purcell's Dido and Aeneas, Handel's L'Allegro, il Penseroso ed il Moderato and the title role of Galatea in Mark Morris Dance Group's premiere performances of Handel's Acis and Galatea; Beethoven's Symphony No. 9, Mozart's Coronation Mass, and Haydn's L'isola disabitata with American Classical Orchestra; Handel's Solomon with the Radio Kamer Filharmonie; Handel at Carnegie Hall with William Christie and the Yale Philharmonia; Christmas Oratorio with Bach Collegium Japan and the Orchestra of St. Luke's; Bach, Handel, Scarlatti, and Hasse cantatas with Ars Lyrica Houston; and Mozart's Exsultate, jubilate and Requiem with the Washington Bach Consort.
Sherezade Panthaki performs in Pulpit & Playhouse— Bach, Handel, Purcell on May 12 and 13.