Susanna Phillips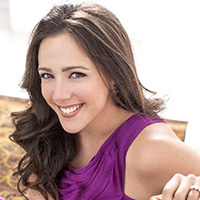 Soprano Susanna Phillips' upcoming and recent activities include her return to the Metropolitan Opera for an eleventh consecutive season to sing Musetta in Puccini's La bohème, as well as role debuts as Micaela in Carmen and Donna Elvira in Don Giovanni. She will sing the role of Countess Almaviva in Le Nozze di Figaro with Cincinnati Opera and the Metropolitan Opera, and join the Houston Symphony for John Adams' El Niño . She will also appear as soloist with the Atlanta Symphony Orchestra at Carnegie Hall for Beethoven's Missa Solemnis, and return to the Metropolitan Opera to sing the title role in Janácek's Kát'a Kabanová. She last performed with Music of the Baroque in September 2017.
Other recent highlights include Susanna Phillips' role and company debut as Birdie in Blitzstein's Regina Theatre of Saint Louis, the Metropolitan Opera premiere of Kaija Saariaho's L'amour de loin conducted by Susanna Mälkki and her Zürich Opera debut as Donna Anna in Don Giovanni. Orchestra engagements last season included a return to the San Francisco Symphony, Mahler's Symphony No. 4 at the La Jolla Music Society's SummerFest, and celebrating Alabama's bicentennial with her native Huntsville Symphony Orchestra.
An avid chamber music collaborator, Susanna Phillips recently teamed with bass-baritone Eric Owens for an all-Schubert recital, which they have taken on tour in Chicago with members of the Chicago Symphony Orchestra, at the Gilmore Festival, and Philadelphia Chamber Music Society. Additional recital engagements included chamber music concerts with Paul Neubauer and Anne Marie McDermott, the 2014 Chicago Collaborative Works Festival, and the Emerson String Quartet. She is a co-founder of Twickenham Fest, a chamber music festival she co-founded in Huntsville, Alabama, which will celebrate its 10th anniversary in 2019. Susanna Phillips also made her solo recital debut at Carnegie's Weill Recital Hall with pianist Myra Huang.
Born in Birmingham, Alabama and raised in Huntsville, over 400 people traveled from her hometown to New York City in December 2008 for her Metropolitan Opera debut in La bohème. She continues to be overwhelmed by the support she receives and returns frequently to her native state for recitals and orchestral appearances.




Susanna Phillips performs in "Rival Divas--Handel and Mozart" on February 23 and 24.