Tyler Duncan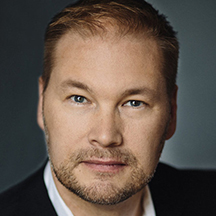 Baritone Tyler Duncan's recent and upcoming engagements include Handel's Messiah with TENET Vocal Artists, Schubert's Winterreise with the Aspect Chamber Music Series, selections from J. S. Bach's Christmas Oratorio with Early Music Vancouver, and Handel's Apollo e Dafne and Bach's Ich habe genug with Arizona Early Music. He also joins Vancouver Symphony as soloist for Beethoven's 9th Symphony, and returns to the Handel and Haydn Society for C.P.E. Bach's Magnificat. He last appeared with Music of the Baroque in May 2022.
Tyler Duncan's recent concert appearances include Stravinsky's Cancticum Sacrum with the San Francisco Symphony; the Operetta Concert Bard Music Festival; St. Matthew Passion with Tafelmusik Toronto; and Mahler's The Boy's Magic Horn with Lviv Philharmonic. He has also given recitals of works by Eisler, Hageman, Schoeck, Shostakovich, and Schubert at concert halls around the world.
Tyler Duncan's recordings include Bach's St. John Passion with Portland Baroque and a DVD of Handel's Messiah with Kent Nagano and the Montreal Symphony Orchestra from CBC Television. He can be heard on the ATMA label in works by Purcell and Carissimi's Jepthe with Les Voix Baroque.




Tyler Duncan performs in The St. Matthew Passion on April 2 and 3.