Tyler Duncan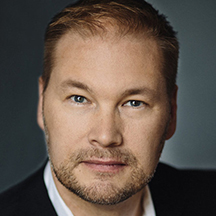 Baritone Tyler Duncan's recent and upcoming engagements include Bach's Mass in B Minor with the Bach Society of St. Louis, an appearance with the Calgary Philharmonic under the baton of Nicholas McGegan, his debut with City Opera Vancouver for Nic Gotham's Nigredo, the world premiere of Jonathan Berger's chamber opera Leonardo at New York's 92nd Street Y, Prince Yamadori in Puccini's Madama Butterfly with the Metropolitan Opera, the Journalist in Berg's Lulu, and Fiorello in Il barbiere di Siviglia. Other appearances have included Bach's St. Matthew Passion with TENET and Tafelmusik Baroque Orchestra. He last appeared with Music of the Baroque in November 2018.
Tyler Duncan's concert appearances include Mahler's 8th Symphony with the American Symphony Orchestra and the Toronto Symphony Orchestra; Berlioz L'enfance du Christ with the Montreal Symphony Orchestra; both Bach and Mendessohn's Magnificats with the New York Philharmonic; Bach's St. Matthew Passion with the Munich Bach Choir, Montreal Symphony Orchestra, and the Oregon Bach Festival; Haydn's The Creation with the Québec, Montreal, and Winnipeg symphony orchestras; Beethoven's Ninth Symphony with the Calgary Philharmonic and Philharmonie der Nationen in Munich, Berlin, Stuttgart, and Frankfurt; Haydn's The Seasons with the Calgary Philharmonic; Handel's Messiah with Tafelmusik, the Montreal and Toronto symphony orchestras, Handel and Haydn Society, San Francisco's Philharmonia Baroque, and Portland Baroque; and Mozart's Requiem with the Montreal, Toronto, and Salt Lake City symphony orchestras. He has also performed at Germany's Halle Händel Festival, Verbier Festival, Vancouver Early Music Festival, Montreal Bach Festival, Oregon Bach Festival, Lanaudière Festival, Stratford Festival, Berkshire Choral Festival, and New York's Carnegie Hall.
His recordings include Bach's St. John Passion with Portland Baroque and a DVD of Handel's Messiah with Kent Nagano and the Montreal Symphony Orchestra from CBC Television. He can be heard on the ATMA label in works by Purcell and Carissimi's Jepthe with Les Voix Baroque.
Tyler Duncan performs in Mass in B Minor on September 14 and 15.