William Buchman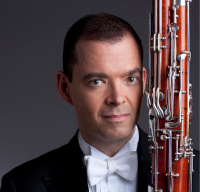 William Buchman plays regularly with Music of the Baroque and has been assistant principal bassoon of the Chicago Symphony Orchestra since 1996. He has performed and toured with The Chicago Chamber Musicians, Chicago Pro Musica, and the Chicago Symphony Winds. He appeared as soloist in February 2002 with the Chicago Symphony and at the 1998 Mostly Mozart Festival at Lincoln Center. He has performed at the Eastern Shore Chamber Music Festival in Maryland, the Grand Teton Music Festival in Wyoming, and the St. Bart's Music Festival in the Caribbean.
A native of Canton, Ohio, William Buchman studied bassoon performance at the Yale University School of Music with Arthur Weisberg and at the University of Southern California School of Music with Norman Herzberg. Currently on the faculty of the DePaul School of Music, he also coaches the bassoon section of the Civic Orchestra of Chicago and has presented masterclasses and recitals in Florida, Illinois, Indiana, Ohio, Michigan, Minnesota, North Carolina, Texas, Canada, Brazil, China, and Germany.
William Buchman performs in Circles of Friends on May 7 and 8.