Yulia Van Doren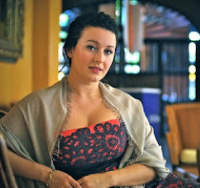 A dedicated interpreter of repertoire off the beaten path, Russian-American soprano Yulia Van Doren has thoughtfully cultivated a unique career as one of the foremost concert singers of her generation. Particularly recognized for her work in Baroque repertoire, Ms. Van Doren has been presented as a guest artist by a majority of the premiere North American orchestras and festivals, has the distinction of being the only singer awarded top prizes in all US Bach vocal competitions, and is featured on two Grammy-nominated opera recordings with the Boston Early Music Festival. She last appeared with Music of the Baroque in April 2022.
Career highlights include creating the lead female role in the world premiere of Shostakovich's Orango with the Los Angeles Philharmonic, directed by Peter Sellars and released on Deutsche Grammophon; two Grammy-nominated opera recordings with the Boston Early Music Festival; the modern revival of Monsigny's opera Le Roi et le fermier at Opéra Royal de Versailles, Lincoln Center, and the Kennedy Center (recorded for Naxos); a tour of Handel's Orlando with Philharmonia Baroque to the Mostly Mozart, Ravinia, and Tanglewood festivals; Scarlatti's Tigrane at Opéra de Nice; nationally televised performances at the Cartagena International Music Festival with soprano Dawn Upshaw; and creating a leading role in the world premiere staging of Lera Auerbach's The Blind at the Lincoln Center Festival.
Other recent debuts and engagements include performances with the San Francisco Symphony, Toronto Symphony Orchestra, Houston Symphony, Cincinnati Symphony Orchestra, St. Louis Symphony Orchestra, National Symphony Orchestra, Nashville Symphony, Baltimore Symphony Orchestra, Indianapolis Symphony Orchestra, Milwaukee Symphony Orchestra, Cleveland Orchestra, the Los Angeles Master Chorale, the Folger Consort, and two trips to the Netherlands for performances with Radio Kamer Filharmonie.
Yulia Van Doren appears in The St. Matthew Passion on April 2 and 3