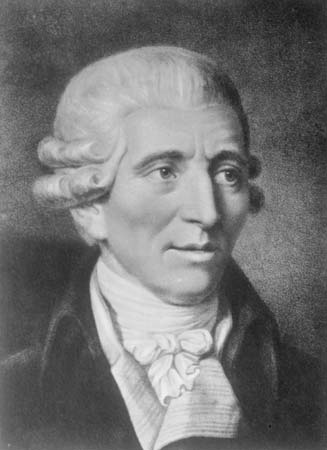 Music Director Jane Glover constructed our January performance around the reality of musical patronage, the relationship between wealthy patron and composer that guided most music-making prior to the nineteenth century. We could just have easily given our concerts on February 28 and 29 the same name. "From Dawn to Dusk" features a trilogy of short, delightful symphonies Haydn wrote as part of his first responsibilities to the court of Esterházy, where he was to spend most of his career. For me, they sum up a reality of classical music that always astounds me: some of the most beautiful music was composed for incredibly mundane purposes.

For the February concert program notes, I decided to research working conditions in Esterházy. It wasn't a bad gig. Sure, I'd be required to devote my life to the prince as a court violinist, but in return I would have gotten a nice salary, health care, room, board, and care for my family as well. (The fact that I'm a woman would have been an impediment to being hired, but a girl can dream.) Haydn's contract makes his own enhanced responsibilities clear. Of the first three of fourteen points, only one really involves music:

1st. Seeing that the Capellmeister at Eisenstadt, by name Gregorius Werner, having devoted many years of true and faithful service to the princely house, is now, on account of his great age and infirmities, unfit to perform the duties incumbent on him, therefore the said Gregorious Werner, in consideration of his long services, shall retain the post of Capellmeister, and the said Joseph Heyden as Vice-Capellmeister shall, as far as regards the music of the choir, be subordinate to the Capellmeister and receive his instructions. But in everything else relating to musical performances, and in all that concerns the orchestra, the Vice-Capellmeister shall have the sole direction.
2nd. The said Joseph Heyden shall be considered and treated as a member of the household. Therefore his Serene Highness is graciously pleased to place confidence in his conducting himself as becomes an honourable official of a princely house. He must be temperate, not showing himself overbearing towards his musicians, but mild and lenient, straightforward and composed. It is especially to be observed that when the orchestra shall be summoned to perform before company, the Vice-Capellmeister and all the musicians shall appear in uniform, and the said Joseph Heyden shall take care that he and all members of his orchestra do follow the instructions given, and appear in white stockings, white linen, powdered, and either with a pig-tail or a tie-wig.
3rd. Seeing that the other musicians are referred for directions to the said Vice-Capellmeister, therefore he should take the more care to conduct himself in an exemplary manner, abstaining from undue familiarity, and from vulgarity in eating, drinking and conversation, not dispensing with the respect due to him, but acting uprightly and influencing his subordinates to preserve such harmony as is becoming in them, remembering how displeasing the consequences of any discord or dispute would be to his Serene Highness.

Haydn was not just an employee, he was considered a "member of the household." He was supposed to be a role model. And his orchestra was more than an ensemble—they were his housemates.

Winning over his ensemble players was essential to Haydn's success at Esterházy—and the Morning, Noon, and Night symphonies were his tools. Nearly everyone in the orchestra has a solo, which I figured was simply an homage to the quality of their playing—but upon further investigation, I learned that the players received a bonus for solos or exceptional virtuosity. In the process of this necessary but relatively pedestrian task of getting acquainted with his coworkers, Haydn creates an ingenious blend of Classical form, the Baroque concerto grosso, and his own incomparable humor.