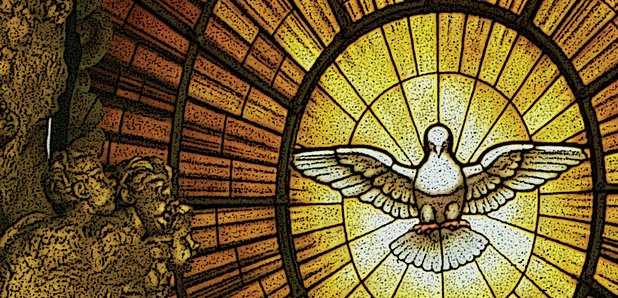 I have a problem, and I'm willing to admit it: I'm an obsessive listener. At least once a week, my brain snags a piece of music and won't let it go. I listen to it over and over until I've figured it out, put words to exactly what it is that's grabbed my attention. This week, I was caught in the grip of Henry Purcell's "Miserere mei," one of the pieces featured on "Hear My Prayer," our April 24 and 25 concerts featuring anthems and other music by Henry Purcell. It's only a minute long, so repeated playings go by quickly.
"Miserere mei" may be one of the most beautiful pieces I've heard recently. Purcell sets the simple text (which translates as "Have mercy on me, Jesus") as a double canon: there are four vocal parts, but the piece essentially has two melodies with staggered entrances. It's a rigid structure, esoteric and cerebral. But the result is the opposite, shot through with moments of incredible passion.
The sopranos and altos enter on a single note, the first syllable of the word "miserere." The tenors and basses come in on the final syllable—"re"—both allowing the entire word to speak and adding emphasis at the end. The piece proceeds deliberately, the canon structure creating poignant, almost painful dissonances. This is no offhand request. This is the most heartfelt of pleas, as if mercy is the only thing standing in between the speaker and certain death.
Last week, I talked to our guest conductor, Paul Agnew, about the repertoire he chose for "Hear My Prayer," and he told me that mercy is a predominant theme in religious music of the time. As Paul described to me, Purcell is the product of a very specific time in English history, and the context in which he lived very much shaped his compositions.
This emphasis on emotion--and specifically, on mercy--is part of what distinguishes Purcell's music from that of the older generation of English composers. In order to better understand how this is manifested aurally, I listened to a few "miserere" settings by Thomas Tallis and William Byrd. Byrd's "Miserere mei, Deus," written about a century earlier, is almost hypnotic in its austere, seamless beauty.
The emotional energy is completely different than that of Purcell's "Miserere mei, Jesu." A calm statement supplants the direct, heartfelt plea. Mercy has been achieved--or is at least on the horizon. Purcell's view is slightly less certain. I found my mind pushing ahead a few hundred years to another song about mercy that I love, Peter Gabriel's "Mercy Street." An homage to the poet Anne Sexton, who committed suicide in 1974, "Mercy Street" is based on Sexton's poem "45 Mercy Street," in which the poet describes her own fruitless search for mercy. In both lyrics and music, Gabriel captures Sexton's feelings of futility and the tragic peace that she ultimately achieved with her death.
From Henry Purcell composing in the face of war and plague, to Anne Sexton looking for a street that doesn't exist, to a music lover on the treadmill in a suburban YMCA listening for life's answers in a minute-long song from the seventeenth century, the search for mercy continues.
Join us on April 24 and 25 for ""Hear My Prayer", featuring the Music of the Baroque Chorus under the direction of Paul Agnew in a program of stunning sacred music by Henry Purcell.