Jane Glover, Music of the Baroque revisit Bach's Christmas Oratorio
By Kyle Macmillan, Chicago Sun Times
November 26, 2014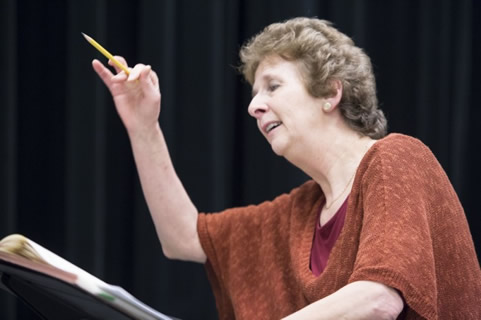 George Frideric Handel's famed oratorio, "Messiah," long ago established itself as a staple of the Christmas season alongside "The Nutcracker" and "A Christmas Carol," and, understandably so, because it is an unquestioned masterpiece. But Scottish tenor Paul Agnew wonders why Johann Sebastian Bach's "Christmas Oratorio," BWV 248, hasn't achieved a similar popularity, considering that it was written by another of the baroque era's composing giants and focuses entirely on the New Testament story of the nativity.
"I don't know why we do it less," Agnew said. "It's just tradition. But I think it is to be regretted, because the music of Bach is absolutely sumptuous and incredibly joyful from the opening chorus of the first cantata. It's an extremely colorful and evocative piece."
MUSIC OF THE BAROQUE
Bach's 'Christmas Oratorio'
Sunday, Nov. 30: 3 p.m. at North Shore Center
for the Performing Arts, 9501 Skokie Blvd., Skokie
Monday, Dec. 1: 7:30 p.m. at Harris Theater
for Music and Dance, 205 E. Randolph
Tickets: $27-$75
Info: (312) 551-1414; baroque.org
Chicago-area audiences will get a chance to judge for themselves, when the Music of the Baroque presents the nearly three-hour work in back-to-back performances Nov. 30 at the North Shore Center for the Performing Arts in Skokie and Dec. 1 at the Harris Theater for Music and Dance.
See a video of the soloists in rehearsal 
The period-style chamber orchestra presented the oratorio for the first time under music director Jane Glover in 2010, and the conductor said those performances went so well that she was eager to bring the work back. "Ideally, I'd love to do it every year," Glover said.
An oratorio, like Handel's "Messiah" or Franz Joseph Haydn's "The Creation," is an opera-like musical setting of typically sacred text usually performed in a concert setting without scenery or costumes.
Despite its title, the "Christmas Oratorio" is not, strictly speaking, an oratorio, because it is not one work. It is actually a set of six cantatas, each originally written for a different feast day associated with the Christmas season in late 1734 and early 1735.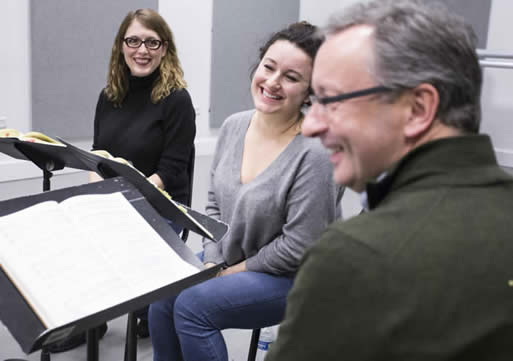 Although the cantatas were never performed at one time during Bach's time, a strong case can be made that he conceived them as a whole, not only because of the one unifying title but also the Evangelist's over-arching narration that ties together the six cantatas.
The variegated work combines powerful choral statements, intimate moments with a soloist and a few instruments and purely instrumental sections. "Like all big Bach, it combines big forces and very small ones," Glover said. "So, in a way it's much more complicated than the 'Messiah' in that sense."
For this performance, the Music of Baroque will employ a 35-member orchestra and a 26-voice choir as well as four guest soloists — soprano Yulia Van Doren, mezzo-soprano Krisztina Szabó, Agnew and baritone Roderick Williams.
"They are all favorites of ours," Glover said. "They're all wonderful Bach singers. For me, it's a dream team."
Agnew has appeared with the Music of the Baroque off and on for about 10 years, including the group's last presentation of the "Christmas Oratorio." "It's a nice relationship," he said, "and I must say that I love the ensemble, and they play wonderfully. In a career like mine, you tend to meet a lot of people once, and it's always lovely to be able to build up relationships and come back and see people you know and make music again."
The tenor said the work is both a technical and emotional challenge for him. He will sing the role of the Evangelist, who tells the familiar story of the Christ child's birth.
"It is quite a big challenge," he said. "You have to be able to recount it with a certain sympathy and certain palette of colors and be convincing. Not only do I do that, I sing all the tenor arias. That means there is quite a lot to sing, and the notes are quite quick and quite high."
Glover said she can't wait for the upcoming performances."When I pulled it off the shelf a couple of weeks ago and started preparing it again," she said, "I was going through, and I thought, 'Oh, yes, gosh, this is my favorite number.' And, then I'd turn the page, 'No, this is my favorite number.'
"Every number is just gorgeous. There is a not a moment you can possibly get bored. As always with Bach, it's musically alpha-double-plus, and you're taken on such a spiritual journey as well."
Kyle MacMillan is a local freelance writer.