Grace Lutheran Church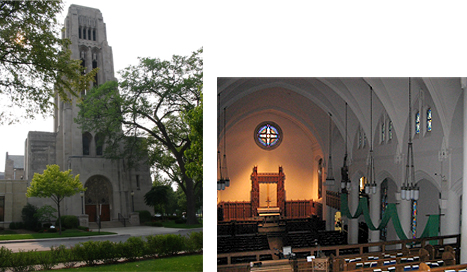 7300 West Division Street, River Forest, IL
About Grace Lutheran Church
The charming and bright sanctuary of Grace Lutheran Church in River Forest is an ideal spot for concertgoing, boasting warm acoustics and an intimate listening experience surprising for its size. A ten-minute drive north of the Eisenhower Expressway, it is a great option not only for the River Forest and Oak Park communities surrounding it, but also for farther west suburban music lovers. It seats about 650.
Dedicated in 1931, Grace Lutheran Church was designed in a popular modified Gothic style by the architectural firm of Tallmadge and Watson, who were also responsible for numerous other churches in the Chicago metropolitan area. (Tallmadge also designed another Music of the Baroque venue, First United Methodist Church in Evanston.)
The remarkable acoustics of Grace Lutheran's sanctuary are a result of its spatial form and proportions and the relatively hard materials with which it is finished. The floor is paved with cleft slate flagstones and the oak pews are not upholstered. The window trim and baptismal font (embellished with a phoenix representing rebirth) are Indiana limestone. An African marble was used for the chancel altar. The plaster walls were unfinished until 1965, when a coat of paint actually increased the acoustic brilliance of the room.
For a large space with superb acoustics, the sanctuary is at the same time surprisingly warm and intimate. The choir loft and organ are half-hidden in the south transept balcony while the east balcony over the narthex (or entrance vestibule) is deep. The glowing stained glass windows, which were created by English craftsmen during the 1930s, emanate a warm suffused daytime light. A rose window above the reredos (ornamental screen behind the altar) radiates vivid colors from a central dove symbol in white to yellow, aquamarine, then blue-violet. It is often illuminated at night.
Wood plays a major role in the ambience of the sanctuary. The architect's original design included extensive oak wall paneling, intricate wood medallions portraying the life and ministry of Christ, and a design theme of vines and branches throughout the church. Somewhere there is a figure of a collie dog and shepherd's staff representing faithfulness. Much of the woodwork for the new church was carved in Italy by carvers who later moved to Milwaukee, where they finished the project after World War II.
The oak reredos is the dominant feature of the sanctuary. It rises above the altar carrying a cross with a gold leaf Circle of Glory, a symbol of the Resurrection. Behind the cross are three symbolic carvings—a hand (the Creator), lamb (the Christ) and dove (the Spirit). Five of the Disciples, flanked by angels, appear on each side of the reredos. The figures of Peter and Paul are found on the pulpit. The empty pedestals and Gothic canopies that range high on the north and south walls are purely decorative elements of Tallmadge and Watson's original design.