Harris Theater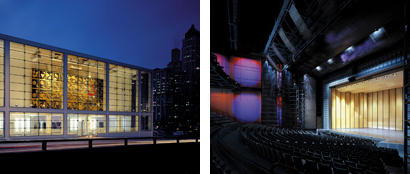 205 East Randolph Drive, Chicago, IL
About Harris Theater
By far the largest of all Music of the Baroque's venues, the Harris Theater at Millenium Park seats up to 1,499. The theater's unique design lends itself to exceptional accoustics and comfort for both concertgoers and musicians. According to the Chicago Sun-Times, "…the Harris continues to be an astonishingly beautiful place to listen to music. Its acoustics cradle sound like a velvet-lined jewel box. There is a sense of sumptuous depth to the theater, an aural atmosphere that imparts an overall glow but also allows individual music voices to sparkle in their own right."
ALL patrons must enter the Harris Theater from the Randolph Street entrance. Patron must have their performance ticket checked to gain access to the lobbies at the Harris Theater.
If you park in the Millennium Park Garage, please take the parking garage elevators to the street level (Level 7) of the garage, exit, and take a left on Randolph to enter through the street level doors at 205 E. Randolph. We recommend dropping off any member(s) of your party with limited mobility at the Upper Randolph entrance before parking, where guests can find lobby seats and await the rest of their party or make their way to other lobby levels once having their ticket(s) scanned.
Discounted parking validation for Millennium Park Garage (not Grant Park North or South garages) is available at the Harris Theater box office. With validation, parking in Millennium Park Garage is $17 for up to 12 hours.
More information can be found on the Harris Theater website.
Click here for information on the Harris Theater's post-pandemic reopening measures