Merrill and Judy Blau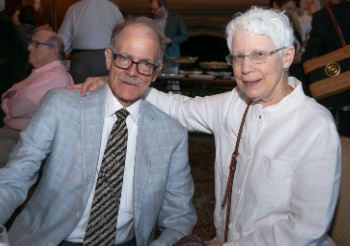 Longtime subscribers and donors Merrill and Judy Blau keep a database of performances they attend. "We remember a [performance of] a Bach Christmas Oratorio in the late 1970's, but our first "saved program" in the data base is the St. Matthew Passion in February 1985." As strong supporters of arts and culture across the Chicagoland area, the Blaus are passionate about live music: "[H]earing live music has an immediate emotional impact that recordings can't replicate. It's exciting to be in the hall sharing a live performance with the musicians. We really miss that excitement."
For Merrill and Judy, it's not just the excitement of live music that makes Music of the Baroque special: it's also the high level of musicianship and the unforgettable performances over the years. Their favorites include our Mass in B Minor performances in September 2019, Susanna Phillips and Jane Archibald's "Rival Divas" program in February 2020, the annual Holiday Brass and Choral program at Divine Word Chapel in Techny, and a particularly memorable performance of Telemann's Day of Judgment in February 1992 at Grace Lutheran Church in River Forest: "during the performance it was raining with thunder and lightning that could be viewed behind the Rose Window, further enhancing the music."
Merrill and Judy Blau have also had a unique experience that not many MOB patrons can claim: an intimate dinner with Music Director Jane Glover. In 2018, they entered our annual benefit gala raffle, and won the package that featured the chance to have dinner with Jane Glover at The Dearborn restaurant. Together, with Executive Director Declan McGovern, they discussed "music, travel, and shared stories. [Jane Glover] is absolutely delightful, and very generous with her time."
Read another MOB Story: Albert Irwin, enthusiastic chorister