John Butt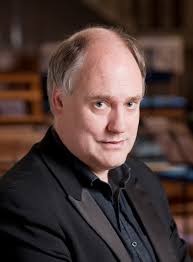 John Butt is Gardiner Professor of Music at the University of Glasgow, musical director of Edinburgh's Dunedin Consort, and a Principal Artist with the Orchestra of the Age of Enlightenment. His career as both musician and scholar gravitates towards music of the 17th-18th centuries, but he is also concerned with the implications of the past in our present culture. Author of five monographs centering around Bach, the Baroque, and the concepts of historical performance practice, his recent work gravitates towards music and modernity, listening cultures and embodied musical experience, frictions between Classical Music ideology and religious practice, and music and film. October 2021 marks his debut as guest conductor with Music of the Baroque.
His discography includes eleven recordings on organ and harpsichord for Harmonia Mundi (which began during his time as University Organist and Professor of Music at UC Berkeley), and sixteen recent recordings for Linn Records. Highlights with Dunedin include Gramophone award-winning recordings of Handel's Messiah and Mozart's Requiem (the latter also nominated for a Grammy award), together with significant recordings of Bach's Passions, Mass in B Minor, Magnificat, Christmas Oratorio, and Brandenburg Concertos; Monteverdi's 1610 Vespers; and Handel's Acis and Galatea, Esther, and Ode to St Cecilia (2018). A new recording of Handel's Samson appeared late in 2019, which was an Editor's Choice and Critic's Choice in Gramophone and disc of the month in BBC Music Magazine. With Dunedin he has made multiple appearances at the BBC Proms and Edinburgh Festival. As guest conductor he has worked with SCO, City of London Sinfonia, BBC Symphony Orchestra, Rotterdam Philharmonic, Stavanger Symphony, Hallé Orchestra, BBC Symphony Orchestra, BBC National Orchestra of Wales, The Orchestra of the Eighteenth Century, The English Concert, Portland Baroque Orchestra, and Irish Baroque Orchestra.
Since receiving the W. H. Scheide prize for his first book in the United States, he has received several awards in Britain, having been appointed a Fellow of the British Academy and Fellowship of the Royal Society of Edinburgh. He has also been awarded the Dent Medal of the Royal Music Academy, together with the RAM/Kohn Foundation's Bach Prize. In 2013 he was awarded the medal of the Royal College of Organists, together with an OBE.


John Butt conducts Vivaldi & Friends on October 17 and 18.