Krisztina Szabó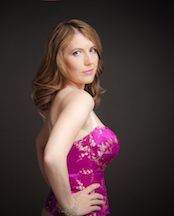 Hungarian-Canadian mezzo-soprano Krisztina Szabó is highly sought after in both North America and Europe as an artist of supreme musicianship and stagecraft, and has become known for her promotion and performance of contemporary Canadian works. Upcoming engagements include as soloist in Bach's Mass in Minor at the Elora Festival, and appearances at the Festival of the Sound's annual opera gala and Calgary Opera's 50th Anniversary Concert. She last appeared with Music of the Baroque in September 2019.
Krisztina Szabó's 2021-2022 season included appearances as soloist with the UBC Symphony Orchestra in Chausson's Poème de l'amour et de la mer and with Tafelmusik Baroque Orchestra in a digital presentation featuring passionate arias by Vivaldi and members of the Bach family. She also performed the role of Euridice in Vancouver Opera's production of Gluck's Orfeo Ed Euridice and Judith in Canadian Opera Company's digital film of Bartók: Bluebeard's Castle. Other engagements include as soloist in the world premiere of Ian Cusson's Songs of the House of Death with Vancouver Symphony Orchestra and Bach's Mass in B Minor with Vancouver Bach Choir.
Krisztina Szabó is a frequent performer of recital, concert, and chamber repertoire. Collaborators include the Royal Scottish National Orchestra, Atlanta Symphony Orchestra, L'Orchestre Symphonique de Québec, Vancouver Bach Choir, the San Antonio Symphony, the Talisker Players in Toronto, the Toronto Mendelssohn Choir, the Elora Festival Orchestra, Les Violons du Roy, the Brooklyn Academy of Music, and the Oregon Symphony (Mozart Requiem). She also appeared as soloist with Plural Ensemble in Madrid, Spain, under the baton of renowned composer-conductor, Peter Eötvös.
In recital, Krisztina Szabó has appeared with Ravinia Festival, Aldeburgh Connection, Music Toronto, Off Centre Music Salon, and Music at Sharon. In addition, she has performed with Symphony Nova Scotia, Lanaudière Festival, Calgary Philharmonic, Orchestra London, Toronto Operetta Theatre, Esprit Orchestra, Atlanta Symphony, Canadian Art Song Project, Festival of the Sound, Grand Teton Festival Soundstreams, Ottawa Chamber Music Festival, Waterside Music Festival, Stratford Summer Music Festival, and Indian River Festival.
Krisztina Szabó's films and recordings include Zerlina in the Rhombus Media film Don Giovanni: Leporello's Revenge, as well as the accompanying soundtrack released by CBC Records. She can be heard as the voice of Leanne in the new opera movie Burnt Toast. She has recorded a four-part series of art songs with the Canadian Ukrainian Opera Association, and Four Songs of Tagore by Ippolitov-Ivanov with the Talisker Players.
Krisztina Szabó performs in The St. Matthew Passion on April 2 and 3.