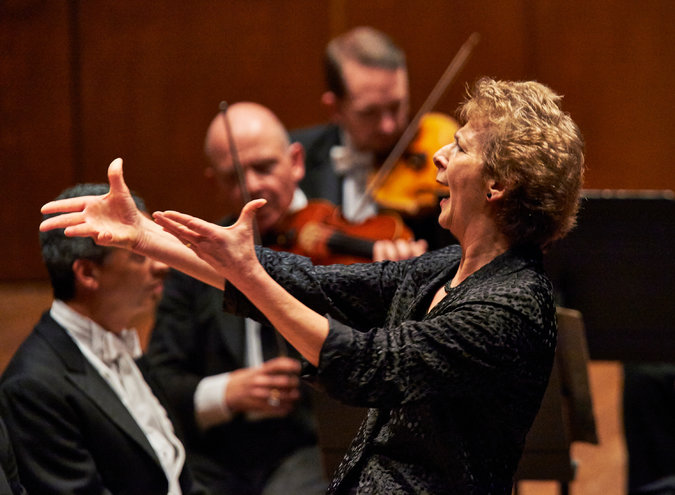 "Jane Glover is the best conductor of Mozart I have ever had the pleasure of seeing. Every movement, every phrase is just right."
"Watching Jane Glover conduct is like watching a dancer."
"The best part of this concert is Jane. What she said at the beginning was perfect, and the music—we are so fortunate to have her here in Chicago."
These are just a few of the things patrons said to me as I wandered around the lobby during the intermission of "Musical Patrons" at the North Shore Center for the Performing Arts several years ago. Everyone with whom I chatted mentioned the music, but Jane Glover was the focus of their comments. She has that effect: she is completely unassuming, yet her obvious passion for what she does immediately captures one's attention.
She first got my attention when I was a graduate student. I vividly remember sitting in a library at the University of Chicago holding her monograph on Cavalli—which weighs at least a pound—wondering how anyone could have the discipline to write an entire book on this composer. (More importantly, could I possibly finish reading it in a week for my survey on 17th-century music?) I was relatively new to the whole field of musicology, and it was through books like Jane's on Cavalli that I learned that areas of scholarship I considered obscure were in fact tiny windows on vast historical worlds I knew little about.
When I left academia for the world of live performance, Jane and I crossed paths once again. But this time, she wasn't just a name embossed on the cover of an impressive-looking book. She was a real person, sitting in the lobby of the Music of the Baroque office and talking to me animatedly about the program notes I was writing for our March 2004 performances of Monteverdi madrigals. It was the first of many such chats about upcoming Music of the Baroque concerts, especially for video previews of our concerts. Often funny, always eloquent (at least on her end) and thought-provoking, these conversations are one of the highlights of my job.
I often have to remind myself that the woman standing in our office talking about Pilates is the same person who has published two critically-acclaimed books in addition to her monograph about Caccini (Handel in London and Mozart's Women), who was Director of Opera at the Royal Academy of Music, and who was one of the first female conductors to appear with the Metropolitan Opera. At the same time, she's so impressive that the accolades don't surprise me at all. In December 2015, she made her debut with the New York Philharmonic in Handel's Messiah—and it seemed only natural that the review in the New York Times was mostly about her. As Anthony Tommasini summed up, "It's hard to make a strong first impression with a piece as familiar as the 'Messiah.' Ms. Glover did." To me, that's Jane: someone who makes a strong first impression whether she's conducting the Mozart Requiem or talking about American television.
Let Jane Glover impress you in just a few weeks in "Hot Coffee," a program bearing her own whimsical title featuring our first performance in decades of Bach's Coffee Cantata, Bach's Orchestral Suite No. 2, and Haydn's Fire and Philosopher symphonies. Performances take place at the North Shore Center in Skokie on March 31 and at the Harris Theater in Chicago on April 1.