BOYCE Symphony No. 5 in D Major
HANDEL Water Music Suite No. 1 in F Major
MOZART Symphony No. 1 in E-flat Major
HAYDN Symphony No. 101 in D Major (Clock)
"When one is tired of London," said Samuel Johnson, "one is tired of life. Because there is in London all that life can afford." English composer William Boyce knew Mozart, who composed his first symphony in the city when he was only eight years old. Handel's Water Music was composed for the "stage" of the River Thames. And Haydn wrote his Clock Symphony for a grand performance in the city's main concert hall. Principal Guest Conductor and London resident Nicholas Kraemer directs.


About Project Inclusion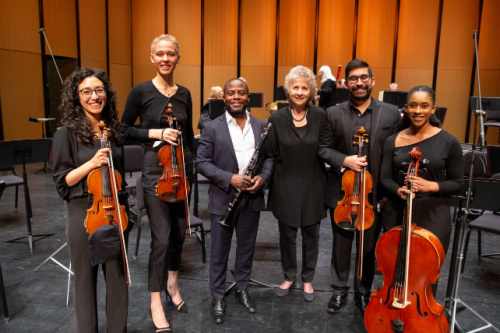 Project Inclusion fellows Audrey Lee, Alexandria Hill, Edwardo Rios and Lindsey Sharpe pictured with clarinetist Anthony McGill and Music Director Dame Jane Glover (February 28, 2022).

The inspiration of Chicago Sinfonietta founder Paul Freeman, Project Inclusion (now Freeman Fellowships) is a unique development opportunity in the performing arts, aimed at increasing diversity and inclusion, ultimately guiding young professionals toward successful careers in music. Today, Project Inclusion offers multifaceted, professional development fellowships to orchestral and ensemble musicians, conductors, arts administrators, and composers. The Grant Park Music Festival also forged a partnership with Sinfonietta in 2013 to launch its own Project Inclusion program. Music of the Baroque began its collaboration with Project Inclusion in January 2022, offering four Project Inclusion fellows the opportunity to work closely with Dame Jane Glover and the Music of the Baroque Orchestra. We are delighted to once again offer four fellows from both the Freeman Fellowship and Project Inclusion the opportunity to collaborate with Nicholas Kraemer and the ensemble in this important learning and professional performance experience.