Oto Carrillo, principal horn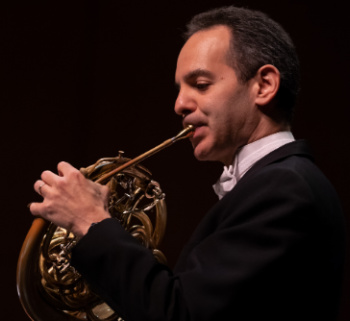 Throughout its 50-season history, Music of the Baroque has employed Chicago's most dedicated, talented musicians—and for them, MOB concerts are sometimes the second (or even third!) performance of the day. Principal Horn Oto Carrillo, who plays in the CSO horn section and serves as a faculty member at DePaul University, shares a behind-the-scenes story that started with a moment of forgetfulness on a two-performance day in January 2012 and ended with a spirited performance of Handel. "I performed with the CSO downtown in the afternoon, then carpooled up to Evanston for an MOB concert that evening at First United Methodist Church. When I unpacked my instrument, I realized to my horror that my music was still sitting in my locker back at the CSO. Adding to my stress was the fact that I was to play a prominent part in a Handel Concerto a due cori and definitely needed to have my own part with me."
With only an hour to go before the acoustic rehearsal—just enough time to retrieve the music—Oto enlisted the assistance of MOB's then-Special Projects Manager (and now Marketing Director) Jennifer More. Jennifer understood Oto's anxiety, and in her signature affable way, "drove brilliantly and kept the conversation very light" all the way to Symphony Center. On the way back to Evanston, Oto admits, "I asked if I could take the wheel—I wanted to control my destiny, and blame only myself for not making any expiring green lights." Jennifer handed Oto the keys ("I really can't believe that she turned her keys over to a complete stranger on the edge of a nervous breakdown!") and they made the return trip north. With 5 minutes to spare, Oto joined the ensemble for the rehearsal and concert, which featured Haydn's Symphony No. 31 in D Major (Horn Signal) in addition to Handel's Judas Maccabaeus Concerto a due cori. "I have no doubt I injected a fair amount of adrenaline into my performance that night!"
Read the next MOB Story: Tom and Diane Blake