Scott and Kathy Hoster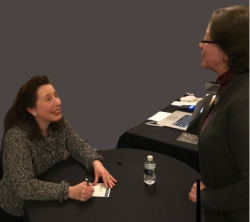 Angela Hewitt and MOB patron Kathy Hoster

For the past few seasons, MOB has been able to expand the concert experience and audience appreciation through "soirees," intimate gatherings featuring guest artists in conversation with MOB favorites like Music Director Jane Glover, Principal Guest Conductor Nicholas Kraemer, and Carl Grapentine. For longtime subscribers Scott Hoster and his wife Kathy, our 2019 soirée featuring pianist Angela Hewitt in conversation with Jane Glover was particularly memorable:
"Angela Hewitt is Kathy's favorite Baroque pianist. She and Jane Glover talked about Bach, and then Ms. Hewitt played excerpts from the pieces they discussed. Angela Hewitt was very kind; following the conversation, she signed some of her CDs for us and posed for a photo with Kathy. MOB's concertmaster emeritus, the late Elliott Golub, was also in attendance that night. I had long admired him—I went up and thanked him for all the wonderful years of music he had provided. I don't know that I have ever met a more classy, humble gentleman.
We have been married 38 years: that evening was one of the most special in our married life. May MOB continue to provide such special evenings."
Read the next MOB Story: Anonymous