Al and Karen Telser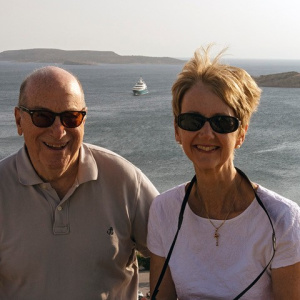 Subscriber Al Telser remembers his first MOB concert very clearly:
It was at First United Methodist Church in Evanston in December 1981. It featured a performance of Bach's complete Christmas Oratorio, which I had never heard live before. My wife Karen was getting her Master's degree from Kellogg at NU and had exams coming up, so I went with a good friend and neighbor. I was hooked.
We went to two or three concerts a year for a few years and then had partial season subscriptions for a few seasons. It wasn't long before we became full-season subscribers—and have been ever since.
The Evanston concerts were held at First Methodist for many years. Each season we tried out different seats until we found the "perfect" ones for us: in the first row of the balcony, the second tier of seats on the north side of the sanctuary. We could look directly down into the faces of the soloists. Vocal soloists tend to look a bit upwards when singing, so we had the feeling they were singing directly to us—a very personal experience. When there were no soloists, we could look over the shoulders of the cellists and string bassists and see the score they were playing. We miss everything about FUM.
When MOB began pre-concert talks, we made a point of attending as many as possible, and we do the same today. The talks always add significantly to our enjoyment of the concert. (We have our favorite pre-concert lecturers, but you'll have to ask us if you want to know who they are!)
Over the years we have come to know a few members of the staff, chorus, and orchestra personally. There was one person I knew for many years through a mutual educational background. I attended college and graduate school with Richard (Dick) Mintel. Dick's passion was recording classical music at the highest level he could. Many of you may know that Dick recorded every MOB concert since its earliest days until just a few years ago, when he passed away. But you probably don't know that, like me, he had a PhD in Biochemistry from the University of Chicago!
We have loved countless Music of the Baroque performances, always deeply appreciating the exceptional vocal excellence of the Chorus. They are a magnificent group who never fail to entrance us. A recent performance of Mozart's Ave verum corpus stands out for Karen, whose tears were uncontrollable, while I have a vivid memory of a Vivaldi concerto for two violins. We love seeing members of the orchestra featured as concerto soloists, and we have thoroughly enjoyed being allowed to attend a few rehearsals—a significantly different and wonderful pleasure for us.
LISTEN to an excerpt from our January 2017 performance of Mozart's Ave verum corpus here


Read the next MOB Story: Scott and Kathy Hoster